Back Home
Listen up ya gitz! It 'as been a while, but ere we are again, an' ya know wot 'dat means! 'Da rumork engine 'as done it's fing, again! All we had ta do was put more squig 'n, hah! Say it wit' me Boyz: squig goes 'n, smoke komes out, squig goes 'n, smoke komes out, … it's as easy as 'dat! It even got a nice rin' ta it!
Now on ta 'da business why we've all gathered 'ere. Greasy clouds uv smoke have left da mekanical brain uv da rumork dingy, leavin' us wit' dese plates uv art. Dese drawings are showin' us 'da filty scum we will be facin' on our Waaagh! into Luteus Prime! Have I piqued yer interest? Ere, have a gander!
Dese first lots look awfully familiar ta me, I might even say dey are lookin' kinda sus! Firm, strong hands an' fear-inducin' scars uv war? I fink I know which nob dose belong ta, an' I'm sure some uv yer do as well! Kome forth an' speak! 'n 'da end we are fightin' 'da same enemy. 'Da otha git looks like dese small buggaz eatin' ma precious squig! Any uv ya 'oo are even finkin' about murkin' me will get 'da hurt!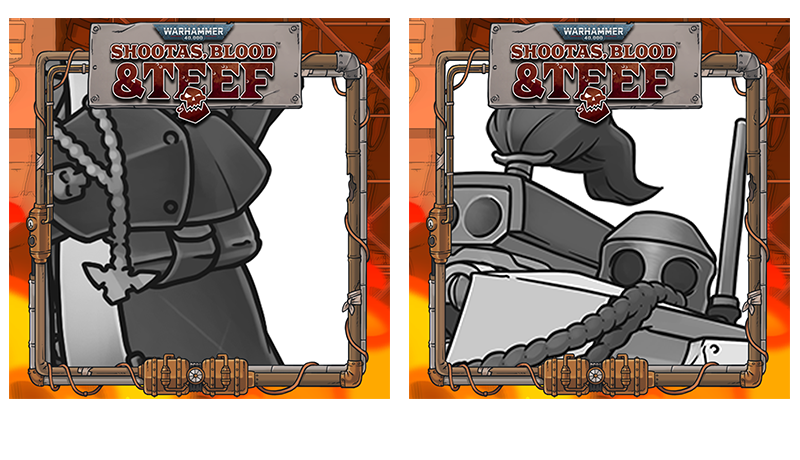 Dose otha gitz look new ta me. Da right wun does have a nice piece uv hair though, reminds me uv ma own hair squig! But enough reminiscin', now we are all up ta speed wit' da newest revelations from da rumork engine.
Share 'da information wit' yer fellow Boyz on 'da social media board ova 'der (links below) or 'da Warhammer 40,000: Shootas, Blood & Teef Discord.
Facebook
Twitter
Instagram
YouTube
TikTok
Da Waaagh! will unleash soon,
Until next time Boyz!
Rogueside
Back Home