Back Home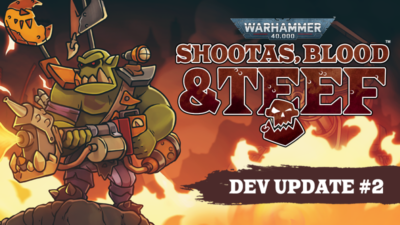 [Orkish tl:dr, full English version below]
OI YOU GITZ, WIV DIS UPDATE 'ERE WE GON SHOW YOU HOW DA WORLD BE BUILT. FURST WE MAKE DEM ARTSIES, US ARTSY BRAINBOYZ KNOW 'OW TO DRAW. WHEN ARTSIES IZ DON OTTA BRAINBOYZ START DRESSING DA WORLD. FINAL STEP IZ ADDING DA LIGHTZ, MAKIN' EVRYFING BEAUTIFUL AND SHOINY.
[Full English version]
What's up Boyz!
Welcome to this month's Shootas, Blood & Teef developer update. We hope you are all doing fantastic today. During this update we want to give you a look behind the scenes and show you the process involved in building the beautiful world we are creating.
Warhammer 40,000: Shootas, Blood & Teef is our take on the Warhammer franchise, bringing the Warhammer 40,000 universe to life in a 2D, cartoony setting. The inspiration for this art style came from classic Belgian comics, which used the 'ligne claire'-style. Every asset you'll see in-game has been hand drawn (in Photoshop) by our talented artists, working closely together with Games Workshop to create a true authentic Warhammer 40,000 world, even to the smallest detail.
What does it take to build a level?
Let's start talking about the actual process we go through every time we create a new level. To make the process easier to follow, we'll be using the Refinery as an example throughout this update.
The first step we take is creating a block-out for the level we want to build. In this process our level designer uses primitive geometric shapes (cube, sphere, cylinder, …) to block-in the level design, environments and art assets. The focus here is to make the gameplay experience as good as possible, by making paths clear and collisions smooth. During this process iterations can, and will, happen, so it's important for the level designer to work closely together with our art people.
When we are happy with the block-out, our artists can start working on the mock-up by drawing the visuals over the block-out. This gives us a good idea of what assets we require and the amount of assets we'll be needing.
Once the mock-up is good to go, the artists will start illustrating all the required unique and modular assets. Think about doors, windows, (broken) walls, ornaments, heaps of dirt… and so on. We store all these different bits and pieces in so-called texture atlases, with the simple reason to be as efficient as possible with space. These atlases are separated into area-specific atlases and common atlases (generic assets we are using for multiple levels).
Now this is where the fun begins and we actually bring the level to life. With the block-out finished and all assets drawn we can start going ham with the set-dressing and polishing! In this phase we place all the assets in their correct position, truly giving character to those areas. The set-dressing can really influence how a player experiences an area and make a level more believable.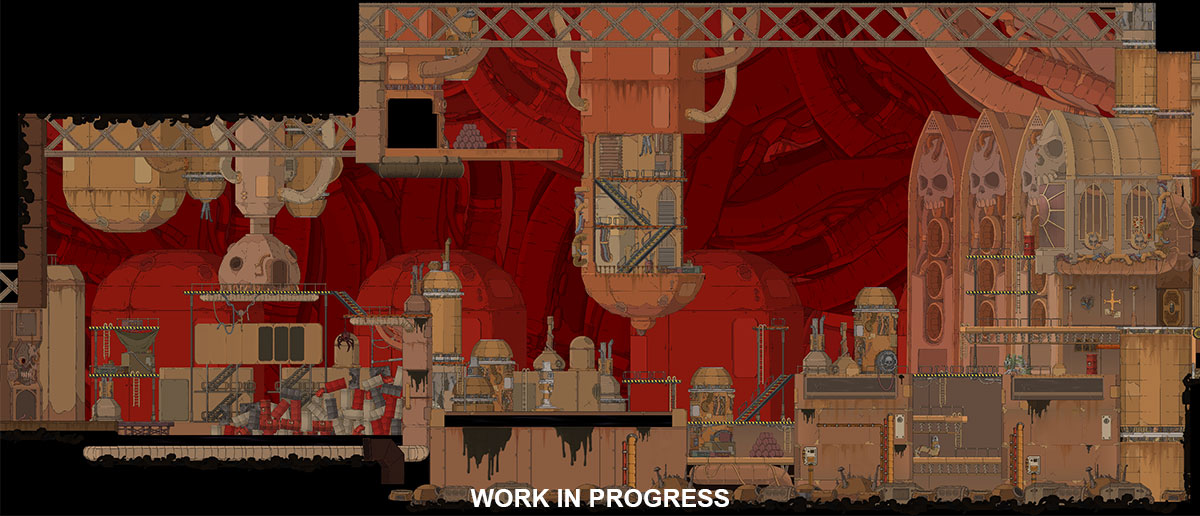 The last thing to do is put the icing on the cake! The last step is to add the lighting and postprocessing, making the area all shiny and nice looking. Great lighting brings that extra punch to an area and can really reinforce the aesthetic of the environment.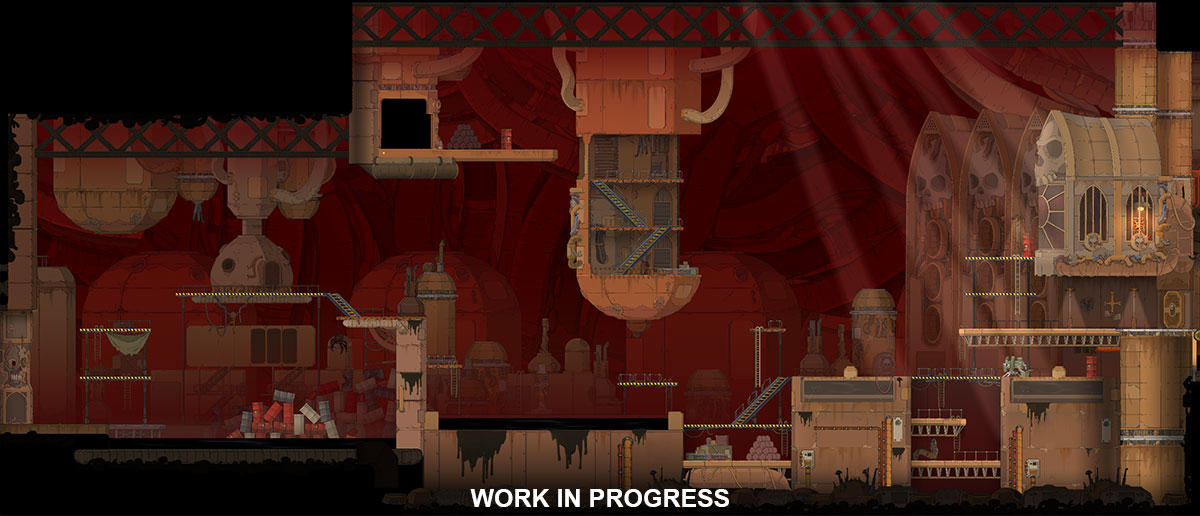 Looks pretty darn good if you ask us!
Please do note that in this update we've used one level as an example, there are still so many more other levels to explore!
Don't forget to join the Green Tide and follow us on social media to stay updated on all Warhammer 40,000: Shootas, Blood & Teef news!
Facebook
Twitter
Instagram
Youtube
Join us on the Official Discord to chat with the devs, share your thoughts with other members in the community and flex your Warhammer 40,000 knowledge! Sign up for our newsletter and don't miss a thing Warhammer 40,000: Shootas, Blood & Teef!
Rogueside
Back Home