Back Home
Heh, yer guys are back again? Wot do yer mean you've seen more visions from da rumork engine? I knew dat machine would kome in handy for us. Quick! let me see dose visions ya are talkin' about. Hmm, yeah. Just as expected. Dis iz lookin' like some new stuff from dis new game da brain boyz are workin' on! Dose blokes look like fun ta me, if ya katch ma drift.
Let's see wot we have 'ere, alright.
So 'da furst git 'as some fancy gloves on I see. A bloke wieldin' some sort uv mace wit' a firm grip? Kould be anyone if ya ask me! An wot's dat otha fing he's wearin'? Iz dat a scarf or something? I must say, I don't know who he iz or wot he iz supposed ta be, but I do know he will get smashed like anybody else! Waaagh! Da sacrifice from da emperor uv 'umies will not be in vain? Wot a silly git, devotin' his life ta protect humanity! everyone knows da orks are da bestest out der!
Okay, movin' on ta da otha wun. Dis looks like a gun uv some sorts, and a pretty big wun dat iz! Double barrul, looks like it 'as a lot uv firepowa. Dis wun might be part uv a larga git if I say so myself. Gotta stay mindful, an krump him wheneva we have da opportunity! Waaagh! Maybe da mekboys kan salvage his weapon for me? If dis weapon kan obliterate an army in a matta uv seconds, I want wun uv dose!
Ya got any more?
Oh, dere's more! It must be our lucky day.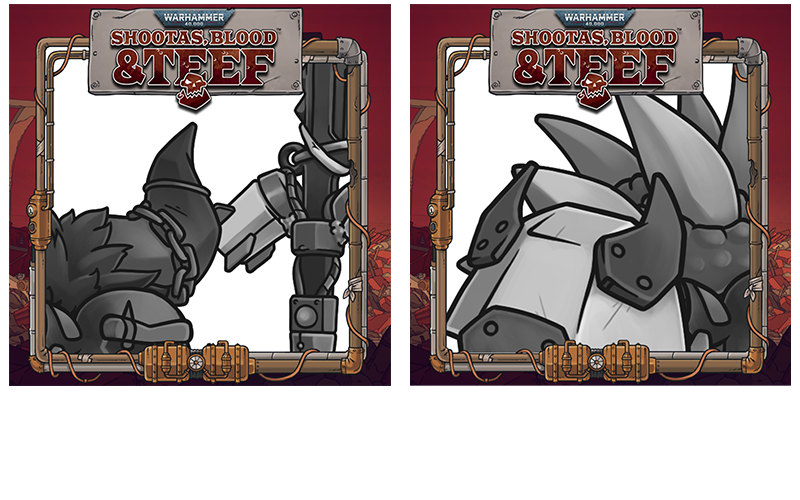 Hm yeah, dese look like some propa tough gits. Dey do look awfully familiar ta me. Dey have got ta be wun uv our own kin. I kan smell dere lust for blood from 'ere. Spiky shoulders, earring, metal scraps as shoulda pads an a polearm wit' rockets attached ta it?! yeah dat's got ta be some Ork. Dere'll definitely be more information komin' on dis git, dats got ta be!
So was dat all you've had ta showz for now?
Great!
Share 'da information wit' yer fellow Boyz on 'da social media board ova 'der (links below) or 'da Warhammer 40,000: Shootas, Blood & Teef [url=https://discord.gg/bvQgQKkNNE]Discord[/url].
Facebook
Twitter
Instagram
YouTube
TikTok
Da Waaagh! will unleash soon,
Until next time Boyz!
Rogueside
Back Home