Back Home
[ORKISH TLDR]
OI GITZ! IN DIZ UPDATE WE BE TALKING BOUT YER BOYZ FAVORITE BOYZ: ORKS! DEY ARE DA BESTEST, DA BIGGEST, DA MIGHTIEST FIGHTIN' FORCE OUT DER IN DA GALAXY! YA FINK ORKS ARE DUMB, YER KINDA TRUE! BUT WHO NEEDZ BRAINZ WHEN YOU CAN JUST OUTNUMBA THOSE PUNY RATS! LEZ SEE WHOS IN DA GAME, 'ERE WE GO!
[Full English Version]
What's up boyz!
Welcome to the fifth dev update for Warhammer 40,000: Shootas, Blood & Teef. We know what you guys are here for. This time we'll be taking a closer look into a fan favourite faction: the Orks! We'll be giving a brief rundown of the Orks you'll encounter throughout the game, specifically only the non-playable Orks. The player-controlled Orks will be shown in-depth in a future dev update soon!
So the Orks are a savage, warlike race spread across the Galaxy, and commonly referred to as the Greenskins. The Orks are numerous beyond belief, always driven to fight and conquer, threatening every single intelligent species of the Galaxy. They are probably most known for their violent crusades, called Waaagh!
There are a fair share of different Ork units you'll be encountering in Warhammer 40,000: Shootas, Blood & Teef. Let's have a look!
Please do note all visuals are a work in progress, changes may happen as development continues.
Deffkopta
The Deffkopta is a one-man, or rather said one-ork, aircraft controlled by so called Flyboyz. They are made from scavenged Warbike frames, removing the wheels and adding some rotors. These flying vehicles make an immense amount of noise, while spitting out a constant stream of bullets. Perfect for Orks. Operating one of these vehicles is more luck than wisdom, spraying around bullets in the hope some of them would land on the target. Be wary, as these aircrafts are extremely brittle and prone to falling apart at any moment, quite a bummer.
Gretchin
The Gretchin is a smaller subspecies of the Orks, and acts as a servant for their bigger brother Orks rather than an addition to their warband. They are marked by their cowardly nature, but also have an inherited love for fighting, be it against weaker foes. In a society where size matters, Gretchin are almost bottom of the barrel and used for the dirtiest jobs. Gretchin are usually used as living shields, are stepped on to traverse difficult terrain and even eaten as emergency rations. They are also pretty sporty, playing football with their bigger brothers, but mostly as … euh… ball. It's the thought that counts.
Ork Boy
The Ork Boyz are the different types of troops deployed by the Orks. There are many types of Boyz, often based on their weaponry and equipment. Common types include Slugga Boyz, Shoota Boyz, etc… Average size is about two metres tall, but varies greatly depending on their tactical role. When Ork Boyz gang up they'll form a Mob, which is led by an Ork Nob (more on him later).
Ork Nob
The Ork Nob is the leader of a Mob, being both feared and revered by his clan because of his greater-than-average size and strength. While the Nob is larger than a Boy, they are still smaller and subservient to the Warboss. To rise through the Orkish ranks requires cunning brutality, brutal cunning and you know… smashing the head of any challenger to the Nob's throne. The Nob is arrogant, headstrong and always ready for a pit-fight to increase his stature. They rule with an iron fist above their mob, making bloody examples to show the Boyz who's in charge. Distinguished by their trophy-adorned equipment and impressive scars earned in pit-fights.
Big Mek
The most skilled Mekboys are known as Big Meks. They are masters of technology, unsurpassed amongst the Orkoid races. During battle they are often seen generating force fields to protect themselves and their creations. The Big Mek leads a group of lesser Mekboyz armed with a wide variety of Greenskin equipment and Kombi-weapons.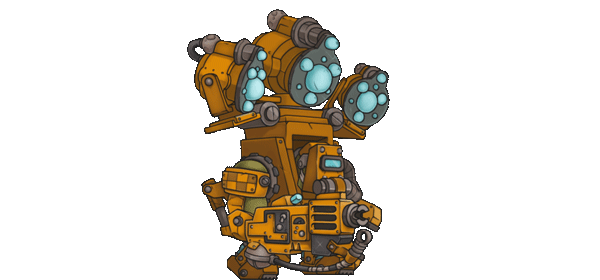 Squig
Yes, oh yes! Look how adorable he is! The Squig is the simplest Orkoid life form and comes in multiple shapes and sizes. These different types of Squig each have their own functionality within the Ork society. Most generally they are used as a primary food source, so yeah… they get eaten. And that's exactly what their purpose throughout the game will be, health packs to keep you going! So keep your eyes peeled in-game and spot those healthy squigs whenever you are in dire need.
Killa Kan
The Killa Kan is a monstrous trash can, but an ever so dangerous one. It's a bipedal walker armed with a selection of close-combat and ranged weapons, operated by a Gretchin who's literally fused into the Killa Kan. The fusing is a painful process for the Gretchin, Killa Kan has no feelings, and is carried out by both a Mekboy and a Painboy. The Killa Kan is quite weak by Ork standards, but it will still blow anything crossing his path to bits.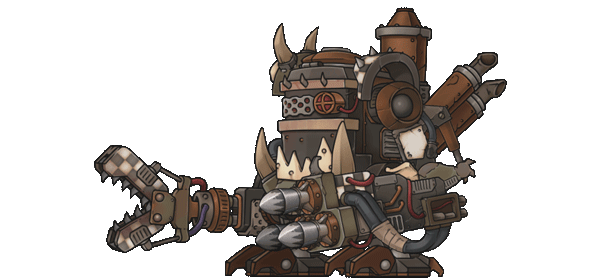 These were all the Orkoid lifeforms you'll encounter throughout Warhammer 40,000: Shootas, Blood & Teef. More information on the playable Orks will follow soon, probably in one of the next updates. Enjoy the weekend and we'll see you in the next dev update!
Follow us on social media to stay updated on all Warhammer 40,000: Shootas, Blood & Teef news!
Facebook
Twitter
Instagram
Youtube
Join us on the Official Discord to chat with the devs, share your thoughts with other members in the community and flex your Warhammer 40,000 knowledge! Sign up for our newsletter and don't miss a thing Warhammer 40,000: Shootas, Blood & Teef!
Rogueside
Back Home